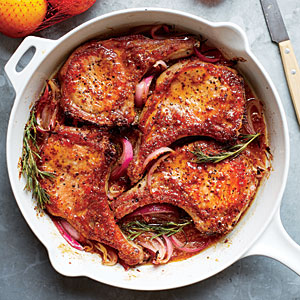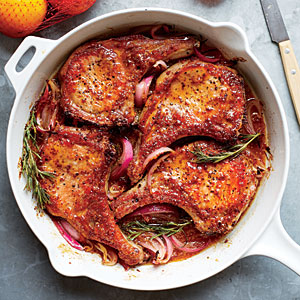 Orange Mustard Glazed Pork Chops
1/2 cup fresh orange juice (about 2 oranges)
2 tablespoons orange marmalade
1 tablespoon whole-grain mustard
1 tablespoon canola oil
4 (6-ounce) bone-in pork loin chops (1 inch thick)
1/4 teaspoon kosher salt
1/4 teaspoon freshly ground black pepper
2 rosemary sprigs
1 medium red onion, cut into 1/2-inch wedges
2 tablespoons fresh lime juice
1. Preheat oven to 425°.
2. Combine juice, marmalade, and mustard in a saucepan over medium-high heat. Bring to a boil, reduce heat, and simmer 15 minutes or until syrupy.
3. Heat a large ovenproof skillet over medium-high heat. Add oil; swirl to coat. Sprinkle pork with salt and pepper. Add to pan; cook 5 minutes or until browned. Turn pork; add rosemary and onion to pan. Pour juice mixture over pork; bake at 425° for 10 minutes or until a thermometer registers 140°. Place onion and rosemary on a platter. Return pan to medium-high heat; add lime juice. Cook 4 minutes or until liquid is syrupy. Add pork to platter; drizzle with sauce.